2007 Coach Staff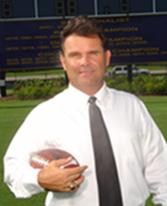 Coach Bill Kramer
Head Coach
Quarterbacks and Running Backs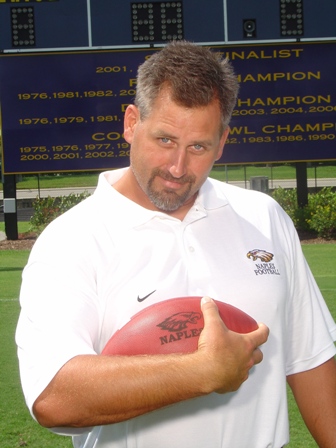 Coach Paul Horne
Offensive Line Coach
Offensive Coordinator
Coach Horne is starting his 10th year at Naples High School. He is a 1993 graduate of William and Mary, a 2005 National Board Certified Teacher, and a 2006 Graduate from Walden University with a M.S. in Educational Leadership. He will teach American History, American History Honors, Government Honors, Government, and anything else the Big Hammer says to teach. His gorgeous, enthusiastic, and loving wife of eleven years, Shannon, is the Golden Eagles loudest fan. Their five energetic and enthusiastic children love donning their Blue and Gold on Friday nights. Colby, Kirby-Lynn, Darby, Abby, and Toby look forward to a trip to Orlando in December! Coach Horne has coached 14 collegiate offensive linemen, four all-state linemen, and numerous all-district and all-county linemen. He has also coached at the Penn State and University of Maryland football camps. The offensive line will be ready to compete in 2007 by being men of Colossians 3:22-23.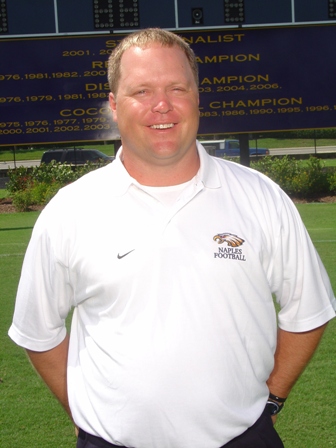 Coach Sam Dollar
Assistant Head Coach
Defensive Coordinator
Head Strength and Conditioning Coach
Coach Dollar is the architect behind the defensive scheme and philosophy which made an immediate and constant impact on the football landscape of Southwest Florida. The season before Coach Dollar's arrival in Naples, the Golden Eagles allowed 310 points in a regular season compared to setting the school record of 56 points in the 2004 season under Coach Dollar's guidance. The confidence he has instilled in his players since arriving in 1998 has given the Naples High Defense 16 All-District players, 10 All-State players and one All-American Defensive player. Naples Defense has also had the SW Florida Defensive Player of the Year 4 times. Naples High School All-Time Defensive Team records under Coach Dollar also include 7 shutouts in a season and 24 interceptions in a season. He has also coached at Miami Central High School and SW Missouri State University. He teaches physical education at Naples High School. He has a wonderful wife, Sandy, and two big ol' boys named Slade and Dray.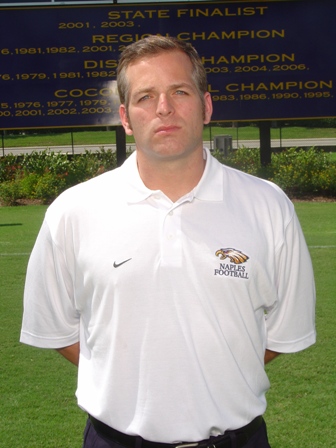 Coach Joshua Cassidy
Defensive Back Coach
JV Defensive Backs Coach
Coach Cassidy is entering his 3rd year as the Golden Eagles' Defensive Back Coach. Along with his coaching responsibilities at Naples High, Joshua will also be teaching Health. Prior to his professional career, Cassidy earned his Master's degree in 2004 from Virginia Tech and his Bachelors degree from Liberty University in 2002.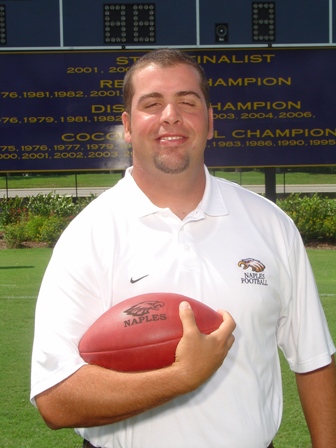 Coach Pedro Fominaya
Defensive Line Coach
JV Defensive Line Coach
Coach Fominaya is starting his 3rd year as Defensive Line Coach at Naples High School. Coach joined us from Stoman Douglas High School in Parkland, Fl, were he was a varsity defensive assistant and coach the defensive line. Coach earned a Batchelors degree in Business at Elmhurst College in Illinois where he was a four year letter winner and was selected to the Illinois Prairie All State Team. Coach Fominaya was recently married to his beautiful wife Patty.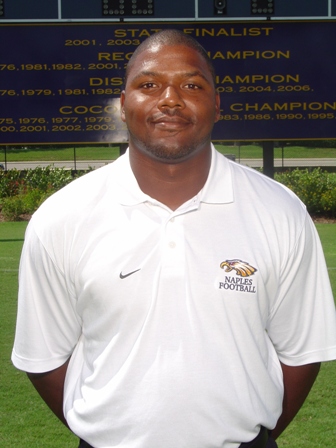 Coach Stanley Bryant
Wide Receivers Coach
JV Wide Receivers Coach
Coach Bryant is an alumnus of Naples High School and competed in football, basketball, and track between 1997 and 2001. As a NHS Quarterback he earned the honors SWFL 5A Player of the Year and Woodruff Award winner. He also played Quarterback and Free Safety for the Salukis of Southern Illinois University. Before returning to the Golden Eagle football program to coach on the varsity staff as Wide Receiver coach, he coached at Carbondale Community High School in Carbondale, Illinois. Stanley and his beautiful wife Sherry have two fantastic sons, Stanley III and Isaiah Yves.
Coach Tony Perez-Benitoa
Place Kicking Coach
Coach Perez-Benitoa is in his third year as the place kicking coach. He has previously assisted the Naples H.S. boys' varsity soccer team. Tony is a Board Certified Marital and Family Law Attorney, martial artist and
instructor, and a competitive shooter. His beautiful wife, Chelon, teaches art at NHS. Their children, Tony and Natalie, attend Naples High School.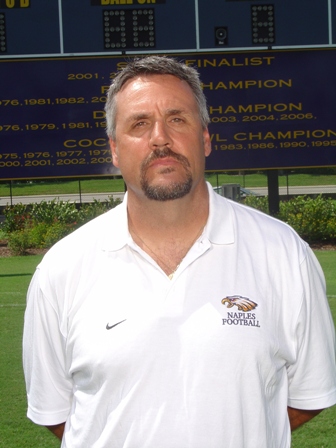 Mark Swanson
Head JV Coach
Special Teams Coordinator
Coach Swanson is in his fourth year on the Naples football staff. Mark is the Special Teams Coordinator for the Varsity and Head JV Coach. The Naples JV has compiled a 15-1 record over the last two years under Coach Swanson. Prior to his tenure at Naples High, Mark coached quarterbacks and was the offensive coordinator at Columbus High School in Miami for 12 years. During that time, Columbus had 66 Division I players and won 5 District Titles. Mark moved to Naples in 1995 to be the head football coach at Lely High School. During his 5 years as the head coach for the Trojans, they shared two District Titles and had three State playoff births. Mark and his wife, Mary Ann have three children; Christine 20, a NHS graduate, currently a junior at Duquesne University in Pittsburgh; Jack 18, a senior, playing safety at Naples High School; and Maggie 14, who is in the 8th grade at East Naples Middle School.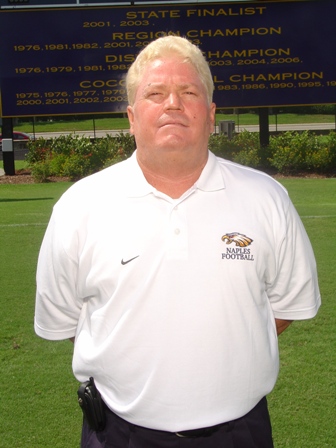 Coach Joe Lorenzo
Assistant Varsity Linebackers Coach
Coach Lorenzo is in his third year at Naples High School working with the Guidance Office in the ESOL Department. He will be the freshmen head coach and defensive coordinator. He has been married to his wonderful wife, Julie, for 26 years and they have two boys, Mike 26 and Tony 14. Coach Lorenzo came from Miami where he most recently spent four years as the offensive coordinator at Florida Christian School and one year as defensive coordinator at Gulliver Prep. (I can do everything through him who gives me strength.) Philippians 4:13
Coach Bronze Bruland
JV Defensive Coordinator
Coach Bronze Bruland is a Naples High graduate. While at Naples, Coach Bruland was a member of the Naples High Football and Orchestral programs. Coach Bruland went on to attend the United States Merchant Marine Academy from which he graduated with honors. Upon graduation he received a commission as an Ensign in the United States Navy Reserve and worked abroad with a focus on Asia and the Middle East. Coach Bruland returns to Naples High as a teacher within the Math department.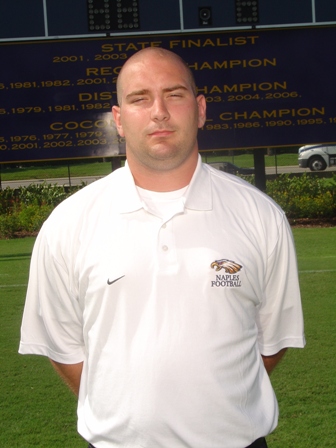 Coach Andrew Sackmann
JV Offensive Line
Coach Sackmann will be in his first year coaching with the JV O-line. After playing four years for Coach Kramer and his staff, he graduated Naples High School in 2005. Shortly after graduating, he went on to Mount Ida College in Boston, Massachusetts where he would start all ten games at left tackle for the mustangs. In the same year he achieved the academic honor of making the Dean's list. Since then he has moved back to Naples and is majoring in nursing Edison College starting in the fall.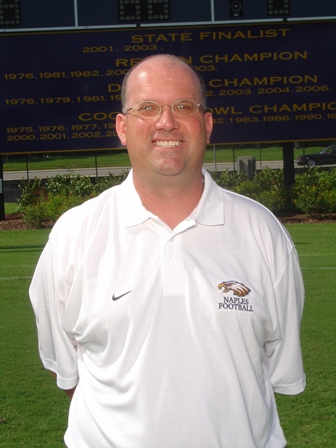 Coach Jason Scott
Video Coordinator
Mr. Scott is starting his 3rd year on the Naples High School football staff and his fifth year as a teacher of AP Government, Civics, Economics, AP Geography and American History. He also coordinates the Model United Nations Club and sponsors guest speakers through the Naples Council on World Affairs. Mr. Scott earned his B.A. in Political Science in 1993 from Saint Anselm College, Manchester, NH. He is currently working toward his MA in History at FGCU. Prior to NHS, he taught in Lee County for seven years. He resides in Bonita Springs.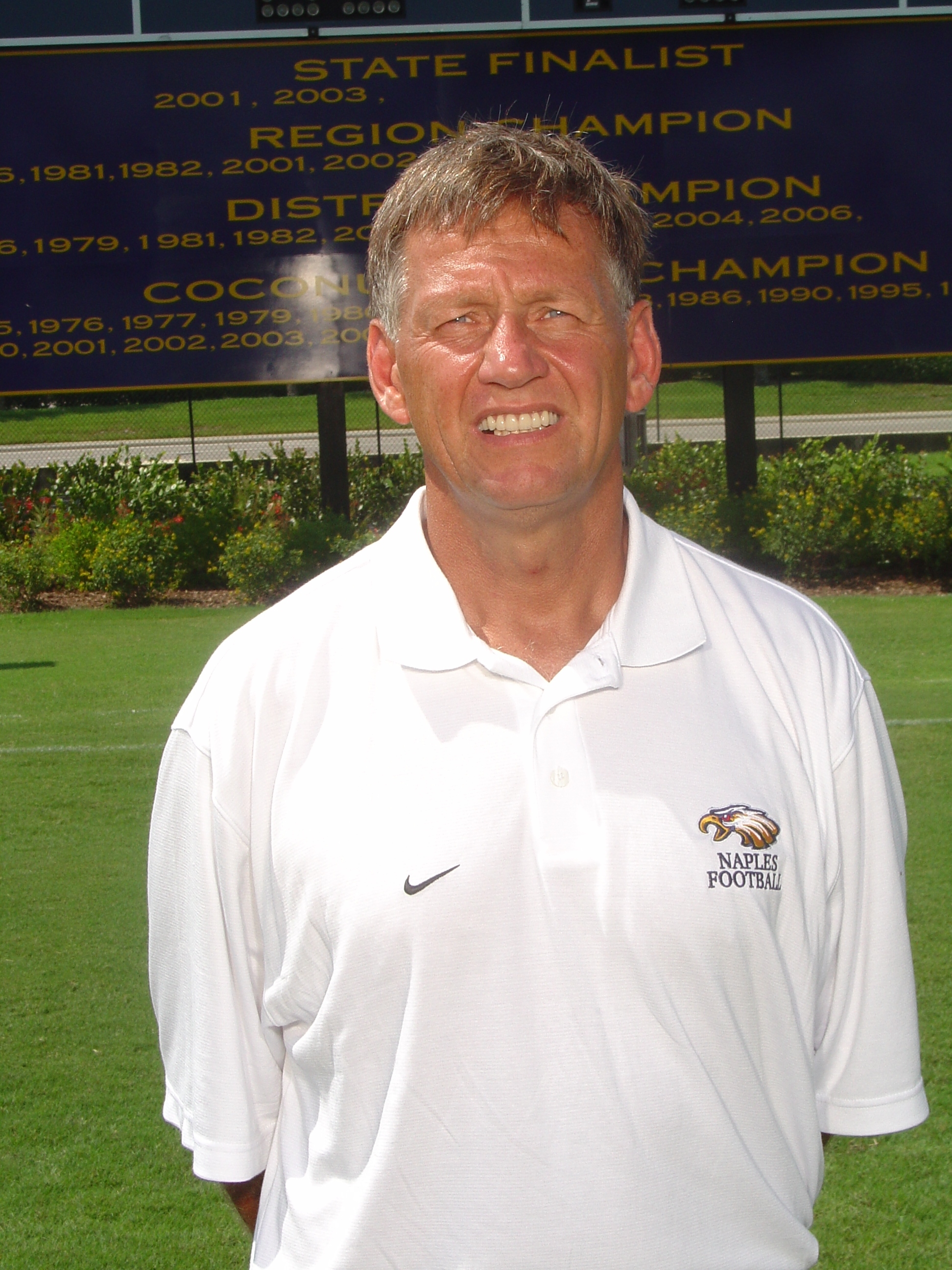 Coach Fran Fidler
Equipment Manager