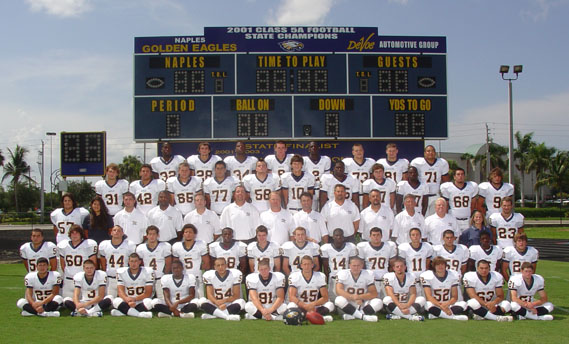 First Row (From Left to Right): Jamison May, Julien Gerbeux, Kolton Schooley, Greg Pratt, Matt Delgado, Richard McCoy, Kyle Lindquist, Chris Zahn, Jon Kalvin, Kolby Hashman, Juan Fredrich, Marshall Baker.
Second Row (From Left to Right): A.J. Miceli, Conrad Churney, Layne McCombs, Derek Delgado, Nick Chandler, Jacob Paris, Jessie Alums, Thomas Simmons, Frantz Dorcely, David Grieder, Rob Randaulph, Miguel DeLaCruz, Antwain Harvey, J.R. Conti.
Third Row (From Left to Right): Tony Perez-Benitoa, Student-Trainer Sam Moran, Coach Bronz Bruland, Coach Stanley Bryant, Coach Josh Cassidy, Coach Pedro Flaminya, Coach Sam Dollar, Coach Bill Kramer, Coach Paul Horne, Coach Mark Swanson, Coach Fran Fidler, Coach Joe Lorenzo, Trainer Kara Bloom, Jack Swanson.
Fourth Row (From Left to Right): Jay Bonaquist, Josh Elizando, Matt Allen, Freddy Moran, Nick Alajajan, Cole Gordon, Mitch Pierre, Cody Frank, Tay Sanders, Kristen Cobega, Mike Zablo.
Fifth Row (From Left to Right): Jaboris Parker, Nick Straub, Carlos Hyde, Craig Wingate, Juno Prudohm, Todd Fischer, Fred Wingate, George DaVilla.